Malcolm Webster trial: Prosecution case closes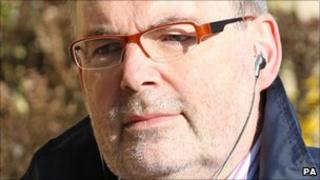 The prosecution case in the trial of a man accused of murdering his first wife and trying to kill his second has closed.
Malcolm Webster, 52, from Guildford, Surrey, denies murdering his first wife Claire Morris in a crash in Aberdeenshire in 1994.
He also denies attempting to kill Felicity Drumm in New Zealand in 1999.
The defence case is expected to begin on Wednesday. The trial, at the High Court in Glasgow, began in February.
A joint minute of agreement was read to the jury, stating that Mr Webster was being pursued by debt collectors for credit card arrears of thousands of pounds.
After the joint minute - the 10th in the trial - was read, advocate depute Derek Ogg QC, prosecuting, told the court that all the agreed evidence had saved the court calling another 110 witnesses.
Defence counsel Edgar Prais QC then asked for time to consider his position, and said: "It is conventional for the defence to be given time to marshal its forces."
Mr Webster also denies intending to bigamously marry Simone Banarjee, from Oban, Argyll, to gain access to her estate.
The case had adjourned on 21 April, before resuming on Tuesday.
The trial, before judge Lord Bannatyne, continues.