Husband gives evidence in Fraserburgh baby murder trial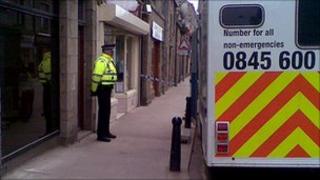 The husband of a woman accused of murdering their newborn baby in Fraserburgh has told how she "laughed" when asked if she was pregnant.
Ineta Dzinguviene, 26, denies asphyxiating her son with clear plastic food wrapping on the day he was born.
Arunas Dzingus, 28, said his wife had repeatedly denied being pregnant in the months before the birth.
Earlier, the High Court in Livingston heard that the accused told friends she was not pregnant, but fat.
Ms Dzinguviene, a Lithuanian national, is alleged to have murdered the baby, later named Paulius Dzingus, in the Aberdeenshire fishing port's High Street on 12 April last year.
Her husband agreed to give evidence in the trial, despite Judge John Beckett QC telling him he had the legal right to decline.
Speaking through a translator, he also told the court that his wife had earlier said she'd missed a period, and that she was going to terminate the baby, but that she never mentioned it again.
'Sore stomach'
Mr Dzingus said he moved to Fraserburgh in January 2010 to work as a delivery driver for a fish factory, and Ms Dzinguviene travelled over with their children, a five-year-old girl and three-year-old boy, in February last year.
He said she looked like she had put on "some weight" when he picked her up at Prestwick Airport.
"She was heavier around the stomach area," he said. "I asked her if she was pregnant and she laughed. She had this look at me as if she was upset and angry at me, so I never brought it up again."
Mr Dzingus said he had asked her about being pregnant "quite a few times".
He told the court that back in Lithuania in late 2009, she said she had missed her period and she wanted to go to the doctor.
The witness said: "She said if she was pregnant she would terminate the pregnancy and I left her money to terminate it. I didn't think there was much I could do if she had made up her mind."
When asked by Dorothy Bain QC, prosecuting, if he would have been happy to have another child Mr Dzingus said he had told his wife he would be happy.
On the date Ms Dzinguviene is alleged to have murdered her son, Mr Dzingus said she sent him a few texts and also asked him to pick up nappies for their other son.
He added: "She complained that she wasn't feeling well. I think she said her stomach was sore."
Mr Dzinguviene will continue his evidence on Wednesday.
'Not pregnant'
Giving evidence earlier in the day witness Egle Liutaite told the court she had thought Ms Dzinguviene was pregnant but the accused denied this.
Ms Liutaite said: "When I asked her about it she said 'I'm not pregnant. I'm fat because of my blood pressure'."
Ms Liutaite told how she later thought Ms Dzinguviene had given birth and went to her flat concerned something might have happened to the child.
The witness said Ms Dzinguviene denied having a baby, or doing anything to a baby, but that her eyes "glazed over" when she was warned she could be jailed if she had hurt the child.
Ms Liutaite said: "We told her we knew she had the baby the day before and her neighbour had taken her home, but she said her neighbours were lying."
After going to Fraserburgh Hospital to be sure Ms Dzinguviene had had her baby, Ms Liutaite said she then contacted police.
The trial continues.