Robert Gordon College teacher 'locked in storeroom'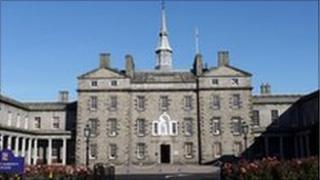 A teacher has claimed she was forced to leave her job at a leading independent school after she was bullied and locked in a storeroom by her head of department.
Fiona Michie made the claims at an employment tribunal in Aberdeen.
The hearing was held to determine whether Robert Gordon's College had dealt fairly with complaints made against her former boss Andrew Hopps.
Mr Hopps denied he had ever bullied or been aggressive towards her.
A statement read by Mr Hopps, head of the Aberdeen school's art department, claimed that at the time of the alleged bullying, Mrs Michie was "fragile" and had been seen crying at her desk.
He said she was set to be interviewed over allegations she used her work email to send and receive pornography and claimed she "felt threatened by younger women" at the college.
He denied he had ever bullied or been aggressive towards her and said he felt he had given his colleague "preferential treatment" at times to make her feel at ease.
Comments 'slanderous'
But Mrs Michie argued that comments in the statement were "slanderous" and a "slur" on her professional character.
The tribunal heard a complaint by Mrs Michie had been upheld in 2008, where the teacher said she had been "locked behind a closed door" in an art storeroom by Mr Hopps.
A later complaint in 2009, in which the teacher claimed Mr Hopps was "threatening" and "aggressive" towards her, was not upheld.
Mrs Michie was signed off with stress and eventually left her job at the college in October 2009.
The tribunal heard from college headmaster Hugh Ousten, who said he launched disciplinary action against Mr Hopps following the second complaint but decided no further action should be taken.
The principal said no problems had been noted between the teachers since the previous complaint and he decided a letter of apology from Mr Hopps to Mrs Michie should be sufficient to solve the dispute.
Mr Ousten told the tribunal: "I did not agree the degree of severity Mrs Michie had alleged had taken place."
Mrs Michie went on to lodge a grievance against Mr Ousten, arguing he had not taken sufficient measures to discipline Mr Hopps in light of previous incidents between them.
The tribunal, held at Aberdeen's Atholl House, continues on Monday.