Malcolm Webster denies wife murder motivated by money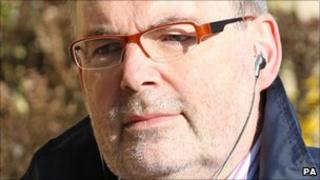 A man accused of murdering his first wife and attempting to kill his second has denied being motivated by money.
Malcolm Webster, 52, of Guildford, Surrey, denies murdering Claire Morris in a crash in Aberdeenshire in 1994 for the insurance payout.
He also denies attempting to kill Felicity Drumm in New Zealand in 1999 for the same reason.
Giving evidence for a second day at the High Court in Glasgow, Mr Webster said he had not acted out of greed.
Mr Webster also denies intending to bigamously marry Simone Banarjee, from Oban, Argyll, to gain access to her estate.
Advocate depute Derek Ogg QC, prosecuting, asked: "The position in the bizarre world of Malcolm Webster includes the deliberate and callous targeting of women - your first wife, your second wife and Simone Banarjee - the grooming of them for your own vicious, greedy ends.
"It has nothing to do with love, but all to do with money, it's the most base motive for murder and that is what the evidence shows, is it not?"
Mr Webster replied: "No sir."
Mr Ogg then said: "You are a murderer and set out to murder your second wife."
'Already married'
The accused replied: "No sir."
Mr Webster also told the court that he never told Ms Drumm she have "died happy", as she claimed when she accused him of trying to kill her.
Referring to the charge of attempted bigamy, Mr Ogg told Mr Webster: "There was no record in the UK of you being married to Felicity Drumm."
He replied: "First of all, I wouldn't have married her. I was already married at the time."
Mr Webster claimed that Oban, where he and Miss Banarjee both lived and worked, was such a small place that she would eventually have found out he was married.
The court heard he bought her an engagement ring.
The trial, which began on 1 February before judge Lord Bannatyne, continues.