Funeral for Jerusalem bus bomb victim Mary Gardner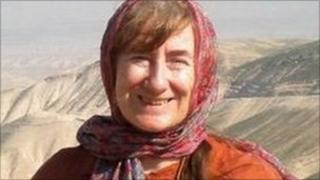 The funeral of a Scottish woman who died when a bomb exploded at a crowded bus stop in Jerusalem has been held.
Mary Gardner, 59, originally of Orkney, was studying at the Hebrew University.
Her parents, who live near Insch, Aberdeenshire, said they were "devastated by the sudden loss" of their daughter in March.
The funeral was held at Chapel of Garioch Parish Church in Aberdeenshire at 1100 BST.
Ms Gardner, an evangelical Christian and bible translator, spent much of her life living in Togo, west Africa, where she worked for Wycliffe Bible Translators.
Her parents, Jean, 81, and Tony, 82, said Ms Gardner, the oldest of their five children, had spent the past six months in Jerusalem.
Mr Gardner said: "Mary was a very special person and we thought the world of her.
"She was devoted to her work and was well liked wherever she went.
"We feel truly blessed to have had her in our lives."
Before becoming a bible translator, Ms Gardner worked as a teacher in Orkney.