Fraserburgh mother 'set out to end newborn son's life'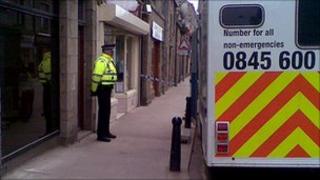 A mother deliberately set out to end her newborn baby son's life in Fraserburgh, a murder trial has heard.
Ineta Dzinguviene, 26, denies murdering her son with clear plastic food wrapping on the day he was born.
Advocate depute Dorothy Bain QC, in her closing prosecution speech at the High Court in Livingston, said: "She was in control of her actions."
The defence argued guilt had to be proved beyond reasonable doubt.
The baby, later named Paulius Dzingus, was found in the Aberdeenshire fishing port's High Street in April last year.
Ms Bain told the jury that they had the option of culpable homicide on the grounds of diminished responsibility.
However, the advocate depute added: "There's no indication that at the time of the death of the baby, Ineta Dzinguviene's responsibility was diminished in any way.
"In the end you take the combination of different circumstances and the case becomes stronger and stronger that she murdered the baby.
"We'll never know why she did it but the reality is she murdered her child."
Ignore revulsion
She said the baby was only a few hours old when he died.
Defence advocate Frances McMenamin QC urged the jury to ignore feelings of anger and revulsion and the temptation to "lock her up and throw the key away".
She stressed that they must consider, on the basis of all the evidence, whether or not the Crown had proved beyond reasonable doubt that murder had been proved.
The defence counsel claimed evidence was lacking that plastic food wrapping found in a bag containing the corpse had actually been used to smother the baby.
The trial, before John Beckett QC, continues on Thursday when the jury is expected to start its deliberations after being charged by the judge.