Malcolm Webster trial: 'A notorious modern criminal'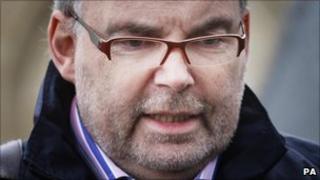 A man accused of murdering his first wife and trying to kill his second could become one of the most notorious criminals, a jury has been told.
Malcolm Webster, 52, denies murdering Claire Morris in an Aberdeenshire crash in 1994 for a life insurance payout.
Mr Webster, of Surrey, also denies attempting to kill Felicity Drumm in New Zealand in 1999.
Advocate depute Derek Ogg QC said in his closing speech Mr Webster was "a most cruel, practised deceiver".
Mr Webster, of Guildford, also denies intending to bigamously marry Simone Banarjee, from Oban, Argyll, to gain access to her estate.
Inviting the jury to find Mr Webster guilty of all charges, he told the High Court in Glasgow if convicted the accused would be one of the most notorious murderers of modern times.
Mr Ogg told the jury: "I submit that his reign of destruction is at an end."
The prosecutor, on the second day of his closing speech to the jury, described the alleged murder as "extraordinary" as most murders are in anger or under the influence of alcohol.
He said: "This is someone who has sat down and carefully and calmly planned the destruction of a person who believed he loved her.
"Who could do such a thing?"
'Psychological sadism'
Mr Ogg said the accused had groomed and targeted all three of his alleged victims.
Mr Ogg compared the car crash involving Mr Webster's two wives and said: "Luckily for Felicity Drumm along came the police right after the crash.
"The Crown view is that this was a deliberate attempt to destroy her life."
Mr Ogg told the jury that Miss Banarjee's evidence showed that Mr Webster claimed to her that he was dying from leukaemia.
He added: "This was psychological sadism. Can you imagine the mentality that does that. What does he get out of it?
"What kind of person does that? What's he thinking watching her reaction seeing her upset, seeing how brave she is being to him?"
The defence closing address in the trial, which began on 1 February, is expected on Monday, followed by judge Lord Bannatyne's charge to the jury.