Fraserburgh fire deaths boat 'engulfed in smoke'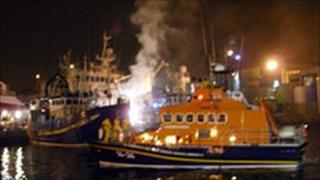 A fishing boat in which three crewmen died at Fraserburgh harbour was engulfed in smoke, a fatal accident inquiry has heard.
The men were killed in a fire which swept through the Banff-registered trawler Vision II in August 2008.
They were Filipinos Ramilito Calipayan and Benjamin Potot, both 33, and 50-year-old Latvian, Rimants Venckus.
Witness Alan Beedie told Peterhead Sheriff Court he raised the alarm and there was nothing more he could do.
Mr Beedie, 61, a harbour security guard, said he was on patrol on the night of the incident.
He said a lot of foreign seamen stayed on boats.
Mr Beedie said he saw smoke in the early hours coming from the wheelhouse area, and thought someone was cooking, but realised something was not right.
Likely causes
He went aboard to check but was engulfed in smoke. He opened another door and was again engulfed.
Mr Beedie said the smoke was thick and he could not see anything.
Five minutes later the emergency services arrived.
Skipper Zander Jack, 50, from Gardenstown, Aberdeenshire, told the FAI he only took ownership of Vision II the day before the fire.
A Marine Accident Investigation Branch report after the incident said a faulty heater or a smouldering cigarette were the likely causes of the fire.
The FAI had been due to start last summer.
However it was postponed after the court heard there had been difficulty contacting the dead men's families and that fresh information had been received from the Health and Safety Executive.
The inquiry continues on Tuesday.