Fraserburgh deaths inquiry told of boat fire rescue bid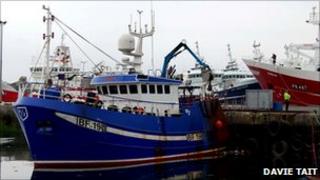 Members of the emergency services have told how they were confronted with flames and smoke on a fishing boat in which three crewmen died.
Filipinos Ramilito Calipayan and Benjamin Potot, both 33, and 50-year-old Latvian Rimants Venckus died at Fraserburgh harbour.
A fire swept through the Banff-registered trawler Vision II in 2008.
Firemen and paramedics told a fatal accident inquiry at Peterhead Sheriff Court the bodies were found inside.
One of the firefighters told the second day of the FAI the smoke was so thick he could not see his hand in front of his face.
The court heard two of the dead men were found in the galley, and the other in the wheelhouse.
A Marine Accident Investigation Branch report after the incident said a faulty heater or a smouldering cigarette were the likely causes of the fire.
The FAI had been due to start last summer.
However, it was postponed after the court heard there had been difficulty contacting the dead men's families and that fresh information had been received from the Health and Safety Executive.
The inquiry continues on Wednesday.