Malcolm Webster trial: Jury told enough evidence in law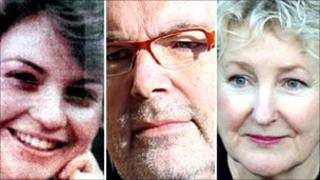 The jury in the trial of a man accused of murdering his first wife and trying to kill his second has been told there is enough evidence in law to convict.
Malcolm Webster, 52, denies murdering Claire Morris in an Aberdeenshire crash in 1994 for a life insurance payout.
Mr Webster, of Surrey, also denies attempting to kill Felicity Drumm in New Zealand in 1999.
Judge Lord Bannatyne told the jury at the High Court in Glasgow they had to decide on the evidence strength.
The jury is set to retire to consider its verdict on Thursday morning after the judge briefly concludes his charge.
Lord Bannatyne told the jury there was enough evidence in law to convict Mr Webster of murdering his first wife, and attempting to murder his second wife.
However he said it was for jurors to decide on the character, quality and strength of that evidence.
Mr Webster, from Guildford, also denies intending to bigamously marry Simone Banarjee, from Oban, Argyll, to gain access to her estate.
Advocate depute Derek Ogg QC had said in his closing speech Mr Webster was "a most cruel, practised deceiver" who could become one of the most notorious murderers of modern times.
However, defence counsel Edgar Prais QC said that although Mr Webster was a "liar", a "thief", a "philanderer" and a "rat bag" he was not a killer.
The long-running trial began on 1 February.