RAF Kinloss personnel stage Forres farewell march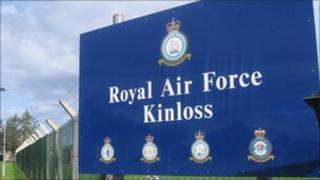 Personnel from RAF Kinloss have taken part in a street parade to mark the disbandment of the station's three flying squadrons.
About 100 personnel marched with rifles and bayonets to exercise their Freedom of Forres, in Moray, a right granted almost 50 years ago.
The squadrons are due to be disbanded on Thursday, following the UK government's defence review.
The airfield at the Moray base will cease to operate after 31 July.
The government's decision to scrap the RAF's Nimrod reconnaissance fleet stripped RAF Kinloss of its main operational role.
The MoD has said the base at Kinloss remains a defence asset and could be used as a garrison by some of the ground troops being withdrawn from Germany.
However, its future, and that of RAF Lossiemouth, remains uncertain.