'Mystery injury' Newmachar pensioner Sandy Ingram dies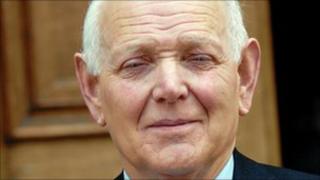 Relatives of an 80-year-old man who has died almost a year after being found injured in Aberdeenshire said they hoped someone would now come forward.
Sandy Ingram was found with head injuries at his farmhouse in Newmachar on 19 June last year, after he went to investigate the sighting of two men.
Relatives and police expressed sadness he had lost his fight for life.
Mr Ingram's wife Ann said: "We more than ever are relying on the public to help us find out what happened."
She said: "The last 12 months have been very difficult for us as a family as Sandy never recovered from whatever happened that night a year ago.
"We often thought he was trying to tell us things but unfortunately his injuries meant he was unable to speak to us.
"We are really grateful to the public for the support they have given us over the months but sadly we have yet to find out how Sandy was hurt."
Mrs Ingram added: "I remain hopeful that the two people who my husband went out to speak to that night will be identified and that we will finally get to know what happened.
"I'm sure there are people out there who can help us and I would urge them to contact the police and tell them what they know."
Piece together
Grampian Police are still trying to piece together the circumstances which led to Mr Ingram being injured.
They want two men seen near his farmhouse to come forward.
Det Insp Richie Guild, who is leading the inquiry, said: "We have been in contact with the family of Mr Ingram throughout our investigation and our thoughts are obviously with them at this time.
"We are continuing our attempts to piece together the circumstances which led to Mr Ingram being found seriously injured outside his home.
"Despite numerous public appeals for information we have yet to establish what happened to Mr Ingram that night.
"However, at least two people know exactly how Mr Ingram was injured that night and I would like to appeal directly to these individuals to come forward and tell us what happened."
One of the two men seen in the grounds was described as wearing a light-coloured baseball cap, possibly green, with a darker peak.
The other was described as wearing dark clothing and had dark, almost shoulder-length, hair.
In October, Mr Ingram's brother launched a new community safety scheme.
It was aimed at local people looking out for each other and taking notes of any suspicious activity.