North east of Scotland crash support group established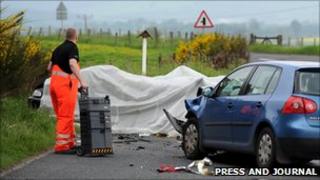 A support group has been launched for relatives and friends of road crash victims in the north east of Scotland.
June Ross, who lost her son Ian Buchanan a year ago, and Kathleen Duncan, who was widowed in 1998, have co-founded 'Don't You Forget About Me'.
Mr Buchanan died on the B993 Kemnay to Monymusk road and the group has been launched on what would have been his 24th birthday.
Mrs Ross said: "We are open to anyone involved in such an incident."
Mrs Ross, of Alford, said: "There are national groups but we are different because we are local.
"We are dealing with a unique section of the country which, although numbers have dropped, still has particularly appalling accident statistics, plus all the problems that go along with that.
"We are not professionals or counsellors, we are purely people who have been affected by a traffic accident."
'Magic wand'
The support group DYFAM is named after the Simple Minds track which was one of the favourite songs of her son, who was a passenger when he died.
Mrs Duncan, of Aberdeen, who lost her husband Peter, said: "Every day you hear about another tragedy on the roads and you think 'when is it going to end?'.
"If I had a magic wand we would be able to clear the roads of these sad incidents. However we hope the group will provide some support to those who have suffered as a result of a road accident."
The aim is to set up a telephone support service, and to hold monthly meetings.
More information about the group is available by contacting dyfam@youreventscotland.com