Donald Trump golf development film set to premiere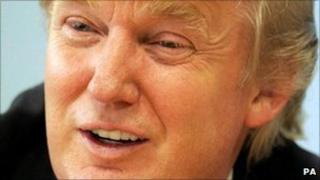 A film about the controversial Donald Trump golf development saga is set to get its UK debut.
The US tycoon hopes to build the "world's greatest golf resort" at Menie, north of Aberdeen.
You've Been Trumped is the work of two film-makers who spent a year following the story in a bid to show what they said was the "truth".
The film has its UK premiere in Sheffield on Friday, and will be shown in Scotland at later dates.
Trump International Scotland criticised the production.
Residents were given cameras as part of the project, to record what happened and their feelings about it.
Director Anthony Baxter said: "The documentary tries to uncover the truth, and I feel the truth has not been told to the people of Scotland or the people of the wider world."
The film features Mr Baxter's arrest by police while filming. Charges were later dropped.
It is showing at the Sheffield International Documentary Festival.
You've Been Trumped earlier received its world premiere in Toronto.
'A failure'
Trump International Scotland said in a statement: "Anthony Baxter did not have the decency to send us a copy so we have not seen the documentary and therefore cannot comment on the content.
"Baxter has no credibility and from what we have seen the film has been widely regarded as a failure.
"We deal with national and international reporters and film-makers on a regular basis who handle themselves with professionalism and integrity.
"Baxter has neither attributes. This film is a poor attempt at making money off the Trump name."
Work on Mr Trump's golf course development started in July last year.
Mr Trump said the total cost of the project was likely to be about £750m.
As well as a championship golf course, the development includes a 450-room hotel, 950 holiday apartments and 500 residential homes.