Aberdeen City Garden design contest closing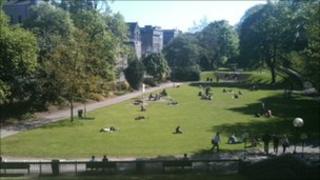 An international design contest for Aberdeen's controversial City Garden project is set to close.
The £140m project aims to transform Aberdeen city centre, which could spell the end of the historic Union Terrace Gardens.
The international design competition, for a revamp set to take place over the next five years, was launched in April.
A shortlist will be announced in July, with the winning bid expected to be announced in December.
Teams are to include an urban designer, architect, structural, civil and services engineers, landscape architect and a cost consultant.
Aberdeen oil services tycoon Sir Ian Wood has pledged £50m of his own money for the project.
During an earlier public consultation process, 55% of respondents said they did not support the new square.
However, councillors backed taking the plans to the next stage last May.
Aberdeen City Council hopes construction of the square would be completed by 2016, if the project proceeds.