Orkney boat death man Alex Moar 'made judgement error'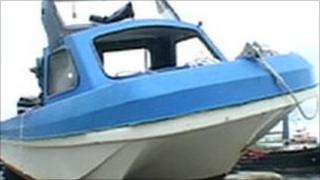 A young man who died when his boat capsized off Orkney made a "fatal error of judgement", a sheriff has ruled.
Alex Moar, 23, died when his boat capsized in 2007, and relatives claimed the emergency services were too slow to respond.
Following a fatal accident inquiry, Sheriff Valerie Johnston said Mr Moar had drunk lager and was not wearing a life jacket.
She added: "His death would have been mercifully speedy."
Mr Moar was lost when his boat overturned between Stromness and Hoy.
After the earlier FAI at Kirkwall Sheriff Court, Sheriff Johnston, in her written judgement, said: "After careful consideration of all of the evidence I conclude that Mr Moar, a young man with a seafaring background, made a fatal error of judgement.
"I am unable to say with any certainty that his judgement was materially impaired by excessive consumption of alcohol but alcohol consumption was a contributory factor.
"He had consumed more than just a few pints of lager which increased the danger of him making errors and reduced his survival chances once in the water."
Lifeboat delay
She explained: "He did not wear a life jacket, he did not have a life jacket, a survival suit, a spare engine with independent fuel source or a VHF radio on board.
"He did have a good selection of flares, a spare tank of fuel and a mobile phone.
"Although he had earlier spoken to friends about going to a party on Hoy he left without advising anyone that he was sailing or of his destination.
"He was aware of the dangerous nature of the stretch of sea he was entering."
Sheriff Johnston said a delay in requesting launch of the lifeboat was "unlikely to have made any material difference to the outcome" for Mr Moar.