Appeal after cat found abandoned in carrier in Aberdeen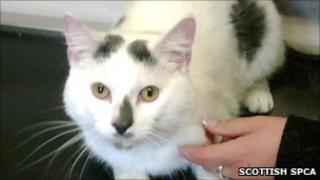 A cat was left abandoned in a pet carrier in Aberdeen by a "cruel and irresponsible" owner, the Scottish SPCA has said.
The black and white male cat was found in the Bucksburn area with a small amount of dry food and no water.
The animal charity has appealed for help to trace the culprit.
Scottish SPCA Inspector Fiona McKenzie said: "The cat's owner couldn't have been sure he would be found as he was left in quite a remote area."
She explained: "It was obvious that the cat had been dumped as he was locked in the pet carrier.
"This was a cruel and irresponsible act.
"He's a big friendly cat and he's in good health. However, he wasn't wearing an identity tag and there was no microchip so we have been unable to trace his owner."
The charity wants to hear from anyone with information about the 9 June discovery.