Aberdeen street pastors offer revellers 'safe place'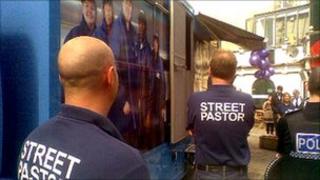 Weekend revellers in Aberdeen are being offered a "safe space" in what is believed to be a Scottish first.
The city's volunteer street pastors - operating since 2007 - will staff a special lorry offering warm drinks, first aid and any support needed.
The specially-adapted 7.5 tonne former mobile health screening lorry will be parked in Little Belmont Street at weekends.
The project is being supported by Grampian Police.