Ideas suggested for Aberdeen city centre's future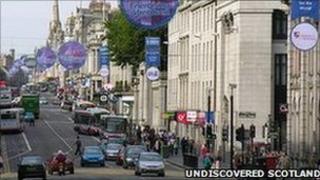 Ideas for regenerating Aberdeen city centre range from Louvre-style glass pyramids to the pedestrianisation of Union Street, it has been revealed.
The local business community has come forward with the suggestions in response to a perceived decline in the area.
Genius Loci - Granite City Futures has been published by Aberdeen and Grampian Chamber of Commerce.
Meanwhile, 55 submissions have been made for the City Garden Project.
The international design contest for the controversial project to raise the level of the Victorian Union Terrace Gardens closed earlier this week.
The submissions were described as being of "exceptional quality" by Malcolm Reading Consultants (MRC), which is managing the contest.
Chamber chief executive Bob Collier said of the Genius Loci publication: "Genius Loci will add some exciting new thoughts and ideas to the debate about how we want our city centre to look and feel like in the future.
"There is general agreement that Aberdeen needs a vibrant city centre which is safe and welcoming for everyone who works in and visits the area."
Shortlist due
The £140m City Garden project aims to transform Aberdeen city centre, which could spell the end of the historic Union Terrace Gardens.
A shortlist will be announced in July, with the winning bid expected to be announced in December.
Aberdeen oil services tycoon, Sir Ian Wood, has pledged £50m of his own money for the project.
During an earlier public consultation process, 55% of respondents said they did not support the new square.
However, councillors backed taking the plans to the next stage.
Aberdeen City Council hopes construction of the square would be completed by 2016, if the project proceeds.