Aberdeen City Council leader John Stewart to step down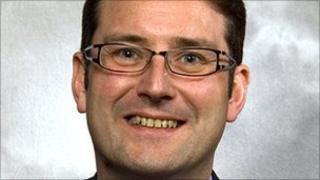 Aberdeen's council leader John Stewart has announced he is to step down in the wake of the SNP becoming the biggest party on the authority.
His Liberal Democrat party slumped to fourth in a by-election which was won by the Nationalists.
The leadership of the council is set to be decided at a meeting next week.
The by-election followed the resignation of Scott Cassie as councillor for Airyhall, Broomhill and Garthdee.
He was jailed for embezzlement.
Mr Stewart said: "While the Liberal Democrats were the largest party on the council we had a responsibility to lead the formation of a stable coalition for the long-term good of the city and the council.
"Following recent by-election results, we are no longer the largest party.
"Therefore, I have written to the chief executive to tender my resignation, and to allow the SNP group the opportunity to undertake this responsibility.
"Of course, the council leadership is a matter for council itself and I would reconsider should, for whatever reason, council wish me to continue."
The SNP group is led by 26-year-old Callum McCaig.
The group's former leader Kevin Stewart, who is now MSP for Aberdeen Central, said: "The SNP is now the largest party on Aberdeen Council and we will begin discussions on Monday to explore how we can best take Aberdeen forward."
He added: "This is a huge breakthrough for the SNP in Aberdeen.
"Winning this by-election in an area where we had no representation before shows how far we have come."
The SNP's Gordon Townson won the by-election with 1,112 votes, ahead of Labour's Angela Taylor on 783, Conservative candidate Bill Berry on 649 and Lib Dem Gregor McAbery on 554.
They were followed by the Greens' Richie Brian with 101 votes, independents Graham Bennett (98) and Hamish MacKay (32), and Dave MacDonald of the Scottish National Front with 25.