Hopes fade for fisherman missing off Unst coast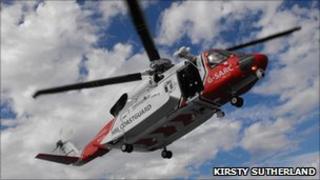 Hopes are fading in the search for a fisherman whose small creel boat was discovered off Shetland with no-one on board.
A member of the public raised the alarm at 2045 BST on Monday after seeing the empty boat off the coast of Unst.
The fisherman has been named as 46-year-old Karl Anderson. The coastguard said his 26ft (8m) boat "Kathleen" had its engine running.
A search by the coastguard helicopter and RNLI lifeboat continues.
Several local boats have also joined the rescue attempt and four local vehicles have been involved in a search of the shoreline.
Shetland Coastguard watch manager Katrina Hampson said: "As well as co-ordinating the search and rescue resources on scene, we are currently trying to ascertain the details of what has happened in order to estimate the length of time that the fisherman has been missing."
She added: "Single-handedly operating a fishing vessel poses many hazards, and fishermen should always take extra care when working alone.
"Always tell someone ashore where you intend to fish and when you intend to return, carry a VHF radio and wear a personal floatation device whilst working on deck."