Mackerel quotas action taking too long says Lochhead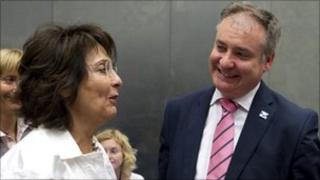 Action against Iceland and the Faroes in the dispute over mackerel quotas is not coming quickly enough, Fisheries Minister Richard Lochhead has said.
The wrangle started when the two nations set their own quotas after failing to reach an agreement with the EU and Norway.
In March, EU action was said to be "imminent".
Mr Lochhead said the European Commission had again threatened action, but not until October.
Iceland and the Faroes have argued that climate change has led to more mackerel moving north into their waters in recent years.
Speaking after a meeting in Luxembourg, Mr Lochhead said: "While the EU is naval gazing and caught up in process, Scotland's most valuable catch is being plundered recklessly and without rebuke by the Faroe Islands and Iceland.
"Commissioner [Maria] Damanaki has helpfully stated her serious intent on taking effective action in October, but this situation is being allowed to continue for yet another mackerel fishing season."