Man who lost arm in paper mill accident seeks £400,000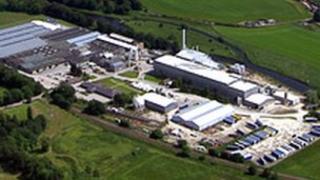 A worker who lost his arm in a "Dickensian-style" accident at a paper mill is suing for more than £400,000.
Stephen Lewendon was pulled into a machine at Inverurie Paper Mill in January 2009.
International Paper later admitted breaching health and safety guidelines and was fined £6,000 at Aberdeen Sheriff Court.
Mr Lewendon is now taking his loss of future earnings case to the Court of Session in Edinburgh.
It has been claimed his potential full-time earnings until the age of 65 could amount to more than £400,000.
However, the detail of the claim is set to be disputed and the case has been referred to a proof hearing on 10 January next year, where evidence will be heard from both sides.
The Health and Safety Executive (HSE) said the accident was a Dickensian-style event, and had a colleague not acted as quickly as he did Mr Lewendon could have died.
More than 300 workers lost their jobs following the decision to close the mill in 2009.