Between Weathers film casting on Fetlar with One Show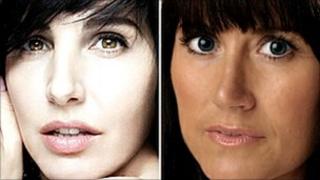 Auditions for a major new movie being made in Shetland are to be featured on the BBC's The One Show.
Aberdeen-based director Jim Brown is producing Between Weathers.
Singer Sharleen Spiteri and actress Dawn Steele have already been signed up for the film, described as a modern-day David and Goliath story.
Scotland-wide auditions are now coming to the small Shetland island of Fetlar at the end of July, and The One Show will be filming progress.
Mr Brown is encouraging as many people to come to the island as possible on 28 July.
He said: "It's going to be an amazing experience with the BBC filming us on Fetlar.
"Anyone from Shetland is welcome to come along, all we ask is that they register themselves on the Between Weathers website.
"We are still doing the Lerwick auditions on the 27th but the BBC are going to be filming on Fetlar so we want to encourage as many as possible to join us and see what this beautiful island is all about."
Texas star Spiteri will play the sister of Dawn Steele's character. Steele is best-known for Monarch of the Glen and Wild at Heart.
Population increase
Scottish actor Colin McCredie - best known for starring in television's Taggart - is also to take a leading role in the movie.
Carol McGregor, the mother of Hollywood star Ewan McGregor, has been named as an executive producer.
It was announced last year that the population of Fetlar had soared after the first year of a regeneration project.
Inhabitants rose from 48 to 70 - an increase of 45%. The aim was said to be to reach 100 within the next nine years.
The increase was attributed to factors including people moving in for work and young islanders returning.