Alex Salmond appeals to UK government to keep RAF bases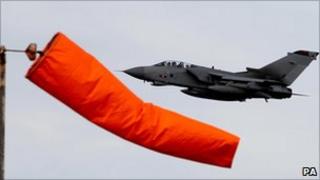 First Minister Alex Salmond has called on the UK government to accept the "overwhelming case" for retaining operations at Scottish air bases.
News on the future of RAF Lossiemouth in Moray and RAF Leuchars in Fife could be released later this week.
A detailed argument for retaining current military operations at both bases was presented to the UK government last month.
Mr Salmond said there was a economic case for keeping them open.
He stressed the benefits of maintaining a strong air force presence in Scotland - especially following the closure of RAF Kinloss.
An announcement of the findings of the UK government's defence review was expected to be made before Westminister breaks for recess, however, there are some reports that it could now be delayed.
He said: "There is still time for the UK government to pay attention to the overwhelming evidence backing the retention of both Lossiemouth and Leuchars.
"I call on them, even at this late stage, to listen to the people of Moray and Fife and keep Scotland's two remaining RAF bases.
"The secure and stable future of the RAF presence at Lossiemouth and Leuchars needs to be confirmed."
He added: "Our military personnel and their families - not to mention the communities that have supported them for generations - deserve nothing less."
Hollywood actor Kevin McKidd has also made an appeal to Prime Minister David Cameron not to close RAF Lossiemouth.
The star of Greys Anatomy and Trainspotting, who comes from near Elgin, said he was "really worried" about the future of the base and outlined his fears about "the massive economic and social damage a double RAF base closure will mean to Moray and the north of Scotland".
He added: "Growing up near Lossiemouth I understand how important the base and the personnel are to the area.
"If RAF Lossiemouth is shut or the air force moved away it will be a disaster to my home area.
"Closing nearby RAF Kinloss has been bad enough, but the impact of a double RAF base cut is unimaginable."