Valerie Pritchard goes on trial for horse neglect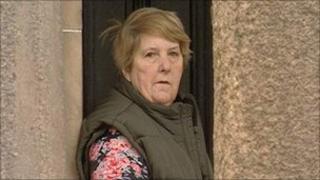 A woman has gone on trial accused of causing unnecessary suffering to dozens of horses at a farm in Aberdeenshire.
Valerie Pritchard, 65, is alleged to have committed the offences at Mains of Green Farm, Cuminestown, in 2009.
Mrs Pritchard denies five charges under the Animal Health and Welfare (Scotland) Act. She admitted one charge of failing to dispose of carcases.
She has gone on trial at Banff Sheriff Court before Sheriff Peter Hammond.
Mrs Pritchard was visited on 14 May, 2009, by Doug Howie, a field officer with the charity World Horse Welfare.
Mr Howie said he saw a dead foal which looked as if it had been there for several days. He also saw a chestnut yearling which was extremely thin, unable to get up, which was later put down.
Mr Howie said there were 25 horses in the field which had very little grass and was very marshy, many of the horses were underweight and lice-infested, and their coats were in poor condition.
'Not managed'
Eileen Gillen, manager at World Horse Welfare, said she went to the farm to take the animals away after they were signed over to the charity.
She said: "I noticed horses right up to their chests trying to get out of the mud.
"This was a group of animals that were not being managed."
She said one of the animals almost died after arriving at the centre because it was so malnourished.
She said its front teeth were almost entirely ground down where it had been trying to eat stones or bark from trees.
Veterinary surgeon Lawrence Brain told the court he had to shoot a colt when he arrived at the farm, describing the animal as "extremely ill".
The case was continued until September.