Claire Morris murder: Victim's brother Peter Morris's walk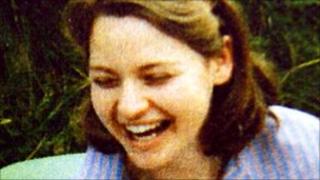 The brother of a woman murdered by her husband plans to walk from her grave to the Scottish Parliament to raise awareness and money.
Malcolm Webster, 52, of Surrey, was jailed for a minimum of 30 years earlier this month for murdering Claire Morris in Aberdeenshire in 1994.
Her brother, Peter Morris, now plans to walk from Tarves, Aberdeenshire, to Edinburgh, which is about 150 miles.
Mr Morris hopes to set up a foundation in her name.
He will also use the walk to collect petition signatures about support needed for the families of victims of crime.
Mr Morris hopes the foundation - called CLAIRE, standing for caring, loving and invigorating retreat environment - will offer emotional support.
He told BBC Scotland: "During the [walk] I am hoping to get signatures on a petition to address some of the issues of serious crime and after care.
"The other object is to fundraise for the CLAIRE foundation.
"The least thing I hope to do is meet with an MSP."
Mr Morris sat through most of the four-month murder trial at the High Court in Glasgow.
He said that while there was practical assistance for the families in high-profile murder cases, he believed there could be a need for more emotional help.
Former nurse Webster was found guilty, in May, of murdering Claire Morris, who was originally from Upchurch, in Kent.
The defendant, of Guildford, had also denied attempting to kill Felicity Drumm in New Zealand in 1999.
The fatal crash in 1994 was originally treated as an accident.
Webster said he had swerved to avoid a motorcyclist.
However, the crash was later reinvestigated, after concerns were raised in the wake of the second crash, in Auckland.
New tests showed Ms Morris had traces of drugs in her system.
Webster was also found guilty of intending to bigamously marry Simone Banarjee, from Oban, Argyll, to gain access to her estate.
He pretended to have leukaemia, and during the deception he shaved his head and eyebrows.
He was jailed for life for the crimes, committed as part of a plot to claim almost £1m in life assurance money.