Major offshore oil and gas leaks fall over year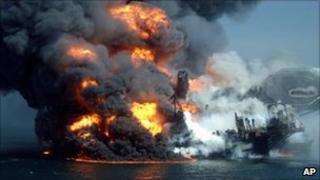 Offshore oil and gas leaks that could potentially lead to a major incident have fallen, the Health and Safety Executive (HSE) has said.
It said there were 73 major or significant hydrocarbon releases in 2010/11, compared with 85 in 2009/10.
The HSE's head of offshore safety Steve Walker said the statistics were "a step in the right direction".
Industry body Oil and Gas UK also welcomed the report but said there was still room for improvement.
There were 61 recorded incidents in 2008/09.
Mr Walker said: "It is encouraging that this is the fourth consecutive year with no reportable fatalities and a reduction in major injuries.
"But there is still much work to be done. Hydrocarbon releases are a key indicator of how well the offshore industry is managing its major accident risks, and the industry still hasn't matched or exceeded the record lows of two years ago.
"The Gulf of Mexico disaster should continue to be a stark reminder of what can go wrong offshore."
Oil & Gas UK's health and safety director Robert Paterson said: "While we acknowledge we've made progress compared with last year, there are still areas for us to improve upon."
He said the aim was to make the UK the "safest offshore sector in the world in which to work".