Church service held in Shetland for Norway victims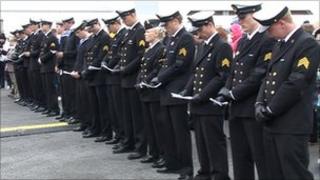 Prayers have been said in Shetland for those killed in the bombing and shooting attacks in Norway.
Hundreds of people taking part in the Tall Ships Race, including many Norwegian sailors, attended an open air church service in Lerwick.
A minute's silence was held to remember those lost and injured in the attacks.
On Friday, at least 85 people died when a gunman opened fire at an island youth camp in Norway, hours after seven people died in a bombing in Oslo.
As a mark of respect, the Tall Ships have been flying their ensigns at half mast. They are due to leave for the Norwegian port of Stavanger on Monday.
Shetland, which is some 200 miles from Norway, has strong Norse links and a shared Viking heritage.
Superintendent for the Fishermen's Mission, Aubrey Jamieson, who led the prayers, said: "Norway is our closest neighbour, probably as close to us nearly as parts of the United Kingdom.
"There were so many Norwegian sailors here as part of the Tall Ships celebration, so that very much brought it even closer to home.
"We very much wanted to pray for them this morning to remember those that have been bereaved and those that have been injured as a result of this terrible event."
Letter of condolence
In a separate development, Orkney Islands Council has sent a letter to the Norwegian Prime Minister, Jens Stoltenberg, expressing sincere condolences after the horrific attacks in Oslo and Utoeya Island.
Council convenor Stephen Hagan wrote: "The bonds of friendship between Orkney and Norway were established long ago and continue strongly to this day.
"The thoughts and sympathies of the people of Orkney are with our Norwegian friends at this tragic time."