Malcolm Webster case: Victim brother hopeful on grave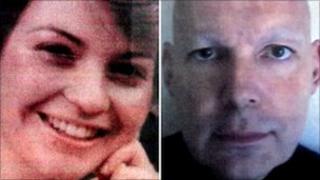 The brother of a woman murdered by her husband hopes soon to resolve his bid to take ownership of her grave.
Malcolm Webster, 52, of Surrey, was jailed for a minimum of 30 years earlier this month for murdering Claire Morris in Aberdeenshire in 1994.
Ms Morris' brother Peter wants to replace her headstone in Tarves, which still bears her married name and refers to a "dear wife".
Aberdeenshire Council said it would try to find a resolution.
Law students representing Mr Morris have met with council officials, and Mr Morris told BBC Scotland: "They presented to the council a way the law should find in my favour.
"It's my hope that the council will agree with that and I will legally become the lair holder."
Former nurse Webster was found guilty last month of murdering 32-year-old Ms Morris in a staged car crash in 1994.
The fatal crash was originally treated as an accident. Webster said he had swerved to avoid a motorcyclist.
However, the crash was later reinvestigated, after concerns were raised in the wake of a second crash, in New Zealand in 1999.
New tests showed Ms Morris - originally from Upchurch in Kent - had traces of drugs in her system.
He was also convicted of trying to murder his second wife, Felicity Drumm, in Auckland.
Appealing conviction
Webster was found guilty after a long-running trial at the High Court in Glasgow.
Webster was also found guilty of intending to bigamously marry another woman, Simone Banarjee, from Oban, Argyll, to gain access to her estate, while pretending he had leukaemia.
The crimes were committed as part of a plot to claim almost £1m in life assurance money.
BBC Scotland later revealed Webster was set to appeal.
Police are also investigating concerns over the deaths of three children at a hospital in Abu Dhabi where Webster worked in the 1980s.