Reward of £1,000 offered after kittens die in Elgin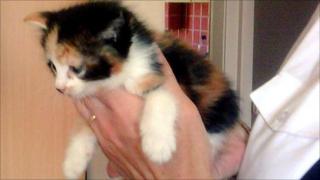 A reward of £1,000 has been offered after two kittens died when they were dumped in a bag on the roof of a derelict Moray building.
One of three kittens survived after being found on the roof of the disused building in Elgin Cemetery earlier this month.
The People for the Ethical Treatment of Animals Foundation (Peta) has now offered the reward.
It is for information leading to the arrest and conviction of the culprit.
Peta spokeswoman Sandra Smiley said: "Someone in Elgin must have seen something. We're calling on anyone with information about this callous act to come forward.
"A person capable of deliberately causing such protracted and needless suffering to helpless animals demonstrates a very worrying psychological state and must be found."
The Scottish SPCA described the act as "appallingly cruel" and that the surviving kitten was extremely lucky to be found alive.
It was given a home by the policeman who collected it.