Fasque homes bid 'could create 275 jobs' in Fettercairn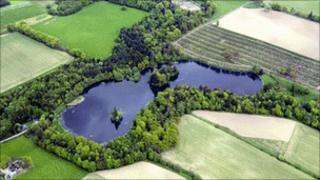 A £55m housing project in the grounds of a historic Aberdeenshire estate could create up to 275 new jobs, it has been claimed.
Plans to build up to 115 new homes - and commercial enterprises - at Fasque House Estate in Fettercairn have been submitted to Aberdeenshire Council.
Fasque House Properties said jobs would be created through construction and spin-offs.
The project's timescale will be between seven and 10 years.
Fasque House was formerly the home of the family of 19th Century Prime Minister William Gladstone.
The plans also include holiday lets, an equestrian centre, farm shop and museum.
Fasque House Properties managing director Douglas Dick-Reid said: "Our aim has always been to restore Fasque House to make it available for weddings, conferences and other special occasions in keeping with the elegance of the house as intended by the people who built it more than 200 years ago.
"However, financing the restoration has been exceptionally difficult hence why Fasque House Properties is now seeking relevant approval for the enabling development proposal."