Concern expressed at Aberdeen Sheriff Court delays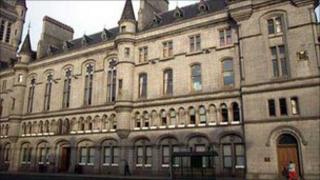 Criminals could walk free because of long delays in getting cases to trial at Aberdeen Sheriff Court, it has been claimed.
Experienced city lawyer Mike Monro has warned that victims are being failed by the system as a result of cutbacks in the number of staff.
Mr Monro, of Mackie and Dewar, said justice was not being done locally.
The Scottish Court Service said delays were an issue but there was appropriate staffing.
Mr Monro told BBC Scotland that delays in prosecutions could also be viewed as a breach of the human rights of an accused.
He also said the memory of witnesses was fresher after perhaps four months following an incident than 16 or 18 months.
'Tackle delays'
A spokesperson for the Scottish Court Service said: "In general Aberdeen Sheriff Court has dealt with cases more quickly than the corresponding period for last year.
"However we are aware that in the last month delays to setting trial dates have emerged.
"The programming of court business is extremely complex involving a number of parties and factors but we are satisfied that our staffing and shrieval resources are at an appropriate level to cope with the business demand.
"We are now actively working with the Crown Office and Procurator Fiscal Service to tackle these delays."