Peterhead fisherman's head injury sparks air rescue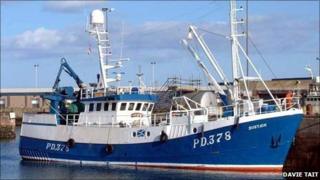 A fisherman has been airlifted to hospital in Norway after suffering a head injury in the North Sea.
Shetland coastguard took an emergency call from the Peterhead-registered Sustain in the early hours of the morning.
They put the boat's crew in touch with a doctor in Aberdeen who advised the casualty should be taken to hospital.
The Norwegian coastguard was then scrambled to pick him up, 90 miles west of Bergen. His condition is not known.