Moray shops handed under-18s cigarette sale penalties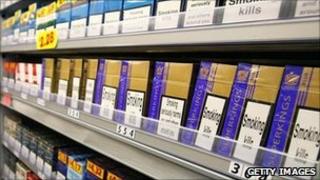 Three Moray businesses have received fixed penalties for selling cigarettes to under-18s during a test exercise.
The sales were made to 14-year-old volunteers during an operation carried out by trading standards.
Fixed penalties of £200 were issued to all three business owners and to two members of staff who made the sales.
They are the first fixed penalties to be issued by Moray Council for under-age tobacco sales since new legislation was introduced earlier this year.
Test purchases were carried out at 22 businesses, which had been given advance notice that the exercise was being conducted.
Trading standards manager Peter Adamson said the outcome was "disappointing".
"The situation has worsened since 2009 when only three out of 97 test purchases resulted in sales," he said.
"I am particularly concerned that sales took place even though the volunteers were well below the age limit for cigarettes and that businesses were told in advance that test purchases were to take place."
New legislation requires sellers to look for approved proof of age if they believe the buyer may be under 18.
In addition, trading standards officers now have the power to issue fixed penalties ranging from £150 to more than £1,000 depending on the circumstances.
Failure to pay can result in a report going to the procurator fiscal.
If a business repeatedly sells cigarettes to under-18s the council can apply for a banning order which prevents the business from selling tobacco.
Mr Adamson said his staff would be following up the recent sales with advice and assistance to businesses, followed by further test purchases.