Man jailed over 'terrifying attack' in Aberdeen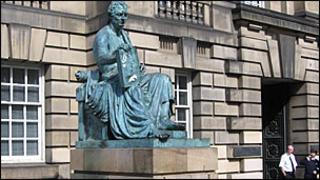 A man who accidentally hit another man with his car in Aberdeen then subjected the victim to a "terrifying attack", a court has heard.
Philip Swarbrick, 36, was jailed for five years after he admitted the assault on Andrew Robertson, 24.
Mr Robertson was repeatedly punched in the head and body.
Judge William Dunlop told Swarbrick: "I find it difficult to find words to describe you or your behaviour that night."
He added: "There must be words but it is probably better I do not use them.
"Having been at the wheel of a motor vehicle which knocked down a pedestrian instead of trying to help you subjected him to a terrifying attack which has had a profound effect on the victim."
The High Court in Edinburgh heard that Mr Robertson he had gone to to buy cigarettes in the early hours of 15 November last year and was walking back when he was hit by the car in Ann Street.
Swarbrick, whose address was given as Aberdeen Prison, got out of his white Peugeot 206 and repeatedly hit Mr Robertson on the head and body to his severe injury, permanent disfigurement, permanent impairment and to the danger of his life.
He also demanded money from him.
Mr Robertson, a commis chef, told the court: "I remember lying on the floor and then I heard a door open and this person came out. Then this guy picked me up and I was being punched on my head and my face and I remember him asking me for money. I said I didn't have any."
Mr Robertson said that after the attack he felt "terrified" and thought he was going to die.
He said: "I got it in my head that I needed to get myself up and on my way before he comes back".
He managed to drag himself up and "run for his life" back to the convenience store.
Mr Robertson suffered severe bruising and cuts to his body as well as dental trauma.
'Brutal attack'
Defence counsel Shahid Latif said: "Nothing I can say can justify the events of last year. The events of that evening were a gross error of judgement on the part of Swarbrick."
Following the hearing, Mr Robertson said: "I'm glad it is over at last I can start my life again. Five years is not long enough - people like that should never be allowed out. A pensioner or a child would never have been able to survive to this day."
He added that it would take him two years to get back to where he was with his job before the attack and that he still has nightmares about the incident and has lost some of the strength in his right arm.
Before the attack Mr Robertson was due for promotion at work, the Courtyard Restaurant in Aberdeen's west end and was also shortlisted for Grampian Junior Chef of the Year.
Welcoming the conviction, Grampian Police's Det Insp Norman Stevenson said: "This was a brutal attack which displayed an extreme level of violence.
"Swarbrick carried out what was a completely random attack on an innocent man, who was left seriously injured and traumatised as a result."
He added: "It is important to remember, however, that crimes involving this degree of violence are extremely rare in Grampian and that this man was tracked down and arrested in a very short period of time."