Efforts to detonate a WW II mine in the North Sea fail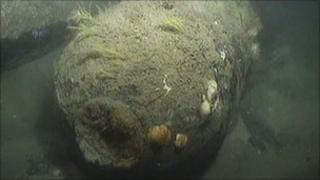 Explosives experts have been thwarted in their attempt to detonate an unexploded World War II mine in the North Sea.
The mine was removed from an area close to the Forties North Sea oil pipeline on Wednesday.
BP shut the Forties pipeline at the weekend to allow the delicate operation to take place.
Fog has made it impossible to keep marine wildlife safe in a controlled explosion.
The 13ft mine was discovered just a few feet from the pipeline earlier this year.
A vessel towed it to an agreed detonation site two and a half miles away.
A further attempt to blow up the munition will be made on Friday, when the Forties pipeline will be reopened.