Water clear after E. coli bug found in Moray water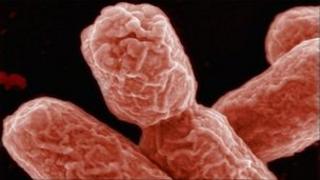 Water supplies in Moray have returned to normal after an outbreak of E. coli.
A small number of the bacteria were found in a storage tank that feeds the Burghead, Kinloss and Findhorn areas.
Householders and businesses were told on Wednesday they should boil their water before drinking it or using it for cooking.
Scottish Water said that following testing the water had been given the all clear. An investigation into the source of the outbreak is under way.
The E. coli bacteria were found as part of the routine testing in the local water supply.
Derek Ogilvie, Scottish Water operations manager, said: "My sincere thanks to our customers who were affected.
"It was an unusual event and we are very sorry for the disruption. We will continue to investigate the circumstances."
Dr Diana Webster, NHS Grampian's consultant in public health medicine, said: "The boil advice was issued as a precaution.
"We can see from the latest samples the supply is clear, so the public can resume using their water as normal.
"We have had no reports of any illness related to this event."