Man jailed for attacking wife in Kintore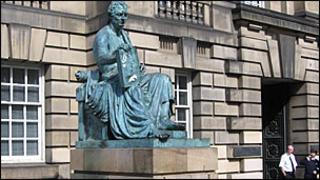 A man has been jailed for five years for attacking his wife at their home in Aberdeenshire, despite a last minute attempt by her to save him from prison.
During a trial Lynn Clark, 34, went back on her story that Andrew Clark, 33, had tried to strangle her.
A jury found him guilty of assault but an earlier charge of attempted murder was dropped.
When he appeared for sentencing at the High Court in Edinburgh she arrived too late with a letter asking for leniency.
Clark was earlier convicted of assaulting his wife to the danger of her life at their home in Kintore last November.
Loss of control
Defence Advocate David Moggach told the court: "Despite all that happened between them, it is still their intention to remain together.
"They are committed to each other and - as the author of the social inquiry report says - they seem to be co-dependent and need each other."
Jailing Clark, judge Lord Pentland told him: "This was a very serious offence which could have resulted in your wife's death.
"I take account of the fact that the jury was not persuaded that you had the state of mind of a murderer but the attack nonetheless involved a disturbing loss of control by you and a dangerous level of violence."
Clark already had a previous conviction for trying to strangle his wife.
The judge also made an order extending his licence conditions for an extra three years, telling him he had a troubling propensity to resort to violence.