Huntly floods evacuation move defended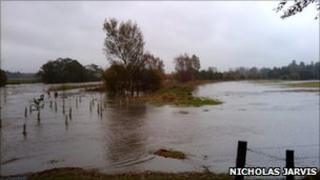 The emergency services in Aberdeenshire have said they were right to evacuate houses and a nursing home in Huntly close to the River Deveron.
A precautionary evacuation was ordered on Monday as the river threatened to burst its banks.
Grampian Fire and Rescue officer Andy Coueslant has said it was a case of "better safe than sorry".
More rain is forecast in the area, and the authorities said the river level will be closely monitored.
About 50 homes were evacuated on Monday. The Meadows area of Huntly suffered flooding in 2009.
Mr Coueslant said: "We'll gear up again if we ne
"The crews are already waiting but hopefully won't be required."
New water rescue teams have been introduced in a number of locations in Grampian.
Mr Coueslant added: "We've looked at options since 2009, and our previous experience, and what we've done is trained crews in at least three locations with another six still to come.
"So we've got assets now at Stonehaven, Ellon and Fraserburgh."