Motorbikes used for anti-crime message in Aberdeen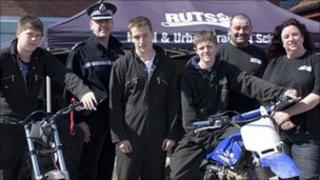 Grampian Police has been promoting a motorbike-based scheme which it says gets an anti-crime message across to youngsters in a positive way.
The scheme is the latest phase of Operation Trinity and provides a motorbike training programme for young people.
Six youths from across the city have been attending a five-day MotoLearn programme at Northfield Academy.
The venture is being run by the Rural Urban Training Scheme (Ruts).
Ruts normally operates from the West Lothian area and is working with Grampian police officers for the first time.
It aims to stimulate positive life choices and reduce offending, anti-social activities and risk-taking behaviour in young people, as part of the diversion strand of the operation.
Off-road
Inspector Stuart Ord, of Grampian Police, said "We are delighted that Ruts are operating in partnership with us in Aberdeen as part of the operation and it is pleasing to see the youngsters gaining confidence and additional life experience through the positive inputs provided.
"I have also been impressed with the way they have got fully involved in the various problem solving and team work tasks set by the Ruts workers."
The MotoLearn programme is predominantly delivered in a garage/workshop environment but is also provided in an off-road setting which is being hosted by the Forestry Commission at Fetteresso.
Earlier in August Grampian Police announced that the "detection and disruption" phase of Operation Trinity had been "extremely successful" with more than 50 people having been dealt with by the force during a crackdown on motorcycle offences in Aberdeen.