Aberdeen park welcomes back Spike the 'talking cactus'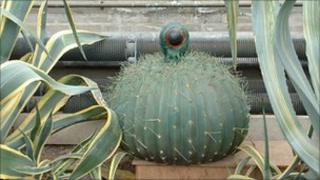 A talking cactus named Spike has returned to Aberdeen's Winter Gardens at Duthie Park after more than 12 years absence.
The cactus, which has a periscope eye, was removed from the David Welch Winter Gardens in 1998 after breaking down.
His comeback is being made at an open day hosted by the Friends of Duthie Park group.
It follows an online campaign, set up by Andy Gibson, calling for the spiky legend's return.
Thousands of fans signed a petition on Facebook.
Mr Gibson, who will provide the voice for the cactus, said Spike was an "epic entertainer".