Mar Lodge faces SNH penalty over forest regeneration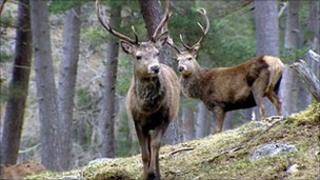 A conservation charity is facing financial penalties after failing to meet forest regeneration targets at the Mar Lodge Estate, near Braemar.
Estate owner The National Trust for Scotland has a 25-year agreement with Scottish Natural Heritage (SNH).
One of its aims is to boost the Caledonian pine forests, under threat from over-grazing by deer.
The trust said failure to introduce its controversial deer management policy early enough had delayed regeneration.
A series of five-year management plans, contained within the 25-year agreement, are used to assess the trust's progress with its conservation, regeneration and ecological aims.
The trust has admitted that, while deer numbers have been reduced to around 1,700 from a high of 3,350 in 1995, forest regeneration has been delayed and targets missed.
Terry Levinthal, director of conservation services and projects at the trust, said: "Although the trust will be penalised by SNH, critics who suggest this proves that our approach at Mar Lodge Estate is not working have completely misunderstood the situation.
"In fact, we missed our targets because we did not implement our deer management policy early enough and progress with forest regeneration was delayed as a result.
"As recognised by SNH, we have in the last three years made excellent headway with the regeneration of the Caledonian Forest within Mar Lodge Estate and there are vibrant and tangible results for anyone to see."
A spokesman for the trust said it was not yet known how much the charity would be penalised by SNH.
An independent review of the trust's deer management policy is currently being carried out, with the report of the panel due in the autumn.
It follows concern expressed by some gamekeepers and locals about the number of deer being culled.