England riots: Grampian Police again aids efforts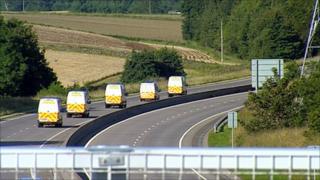 A team of Grampian Police officers has left for England as part of the continuing increased police presence following last week's riots.
Five of the force's riot vans were seen by BBC Scotland leaving Aberdeen on the A90 on Wednesday morning.
The Association of Chief Police Officers in Scotland (Acpos) confirmed the vans were heading to London.
Last week, in the immediate aftermath of the troubles, Acpos said about 250 Scottish officers were involved.
A spokesman would not confirm how many Scottish officers were still deployed south of the Border.