'Everything' being done to tackle Shell oil leak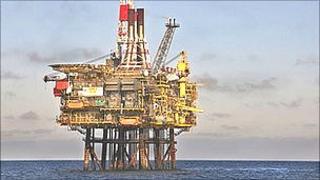 Everything possible is being done to tackle Shell's North Sea oil leak, the company has insisted.
Shell has been dealing with the release of what has been estimated as more than 200 tonnes from a leak near the Gannet Alpha, which was discovered last week.
The pipeline still contains up to 660 tonnes of oil.
Meanwhile, Scottish Environment Secretary Richard Lochhead said there was no evidence the incident was having a significant impact.
And he also stressed the importance of openness and transparency surrounding the leak.
Glen Cayley, technical director the company's exploration and production activities in Europe, said, if the inspection and maintenance procedure had been flawless, the incident would not have happened.
He told a media conference in Aberdeen: "We are making good progress in stopping the leakage from the flow line to the Gannet platform. The flow rate currently stands at less than one barrel a day.
"I must stress again how much we regret this incident, that the situation is under control and we are working towards a swift solution."
A planned summer shutdown of the platform is expected to commence on Thursday, to allow an inspection of other pipelines that feed the platform.
Complete openness
Mr Lochhead said: "We have made clear the Scottish government's primary role is to assess and advise on the impact this spill may have on the marine environment.
"The current information we have is that only one oiled bird has been spotted - there is no evidence of any significant impact.
"We do not expect fisheries to be impacted, but again monitoring will be undertaken. Marine Scotland's Fisheries Research Vessel Scotia has been diverted to the area and tasked to take samples from the incident area for analysis."
In the wake of calls for Shell to be more open, the environment secretary added: "I have spoken with both Shell's senior management and the UK government's offshore incident representative, Hugh Shaw, over the past 24 hours and I stressed, once again, the importance of clear communication on the current operation and the expectation people have for complete openness and transparency on the situation.
"I was assured by both that this point had been taken on board, and I'm pleased to see that steps have now been taken to put more information in the public domain.
"This must continue."