First part of Shell North Sea oil leak operation begins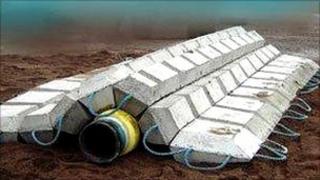 The first part of the operation to stop the Shell pipeline leaking oil into the North Sea has begun.
Shell has been dealing with the release of what has been estimated as more than 200 tonnes from a leak near the Gannet Alpha, discovered last week.
The pipeline still contains up to 660 tonnes of oil.
The first stage involves placing a special concrete blanket across the depressurised pipeline to force it back down on to the sea floor.
It had been left raised up to 4ft (1.2m) along a 0.6-mile (1km) section, about 300ft (91m) below the surface.
Risk assessments on the next stage, to close off the valve where the oil is coming from, are still being carried out.
Shell has also been asked to build a containment device in case it is needed.
Hercules aircraft are on standby, loaded with detergent.
Glen Cayley, technical director the company's exploration and production activities in Europe, said that if the inspection and maintenance procedure had been flawless, the incident would not have happened.
Scottish Environment Secretary Richard Lochhead said he had told Shell to be as open as possible about the incident.
RSPB Scotland has called for a "full and open" investigation into the North Sea oil spill "to determine whether the preparedness of the authorities and industry standards are adequate".
RSPB Scotland director Stuart Housden said: "We need to know what happened, why, and if those responsible will be held accountable."
And Stan Blackley, chief executive of Friends of the Earth Scotland, said: "If Shell is found guilty of any wrongdoing, then it should feel the full weight of the law."
The Gannet Alpha oil platform is 113 miles (180km) off Aberdeen.