Moray economy 'to be diversified' after RAF struggle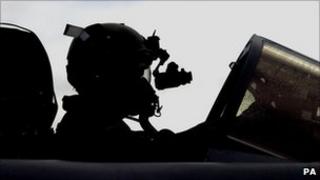 Campaigners who fought to save the RAF air base at Lossiemouth are launching the next phase of their plans with the publication of two new reports.
They aim to diversify the economy, after concluding Moray is too dependent on the military presence.
Under the MoD's strategic review, the RAF will stay at Lossiemouth, while the former Kinloss air base will become an army barracks.
The campaigners are being led by the Moray Community Planning Partnership.
They say the two reports will help decision-makers address the challenges faced by the area following the changes at the two bases.
One looks at the economic and business future of the area's business and commercial capital Elgin, while the other looks at diversifying the wider economy.
Defence Secretary Liam Fox announced in July that RAF Lossiemouth would be the only air base retained in Scotland.
Kinloss, along with RAF Leuchars in Fife, will become a base for the army as a result of changes Mr Fox described as a "coherent long-term strategy".
RAF Kinloss was home to Nimrod surveillance aircraft before all of those stationed there were retired in 2010.