Shell divers switch off North Sea oil leak valve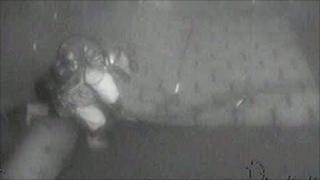 Shell divers have turned off a valve which has been leaking oil into the North Sea.
The company has been dealing with the release of what is estimated to be 218 tonnes of oil from a leak near the Gannet Alpha platform.
Divers have been placing concrete blocks over the pipeline, where the leak was discovered last week.
Shell said divers had closed the relief valve from which the oil had been escaping, and it would be monitored.
The pipeline - about 300ft (91m) below the surface - contains up to 660 tonnes of oil.
Glen Cayley, technical director of Shell's exploration and production activities in Europe, said: "Closing the valve is a key step.
"It was a careful and complex operation conducted by skilled divers, with support from our technical teams onshore.
"But we will be watching the line closely over the next 24 hours and beyond."
He explained: "Our next task is to remove the residual oil from inside the depressurized flow line, and that will take time."
'Proved clear'
Scottish Environment Secretary Richard Lochhead said: "It is clearly good news that Shell have managed to close the valves, though the situation will need to be closely monitored over the next 24 hours to ensure this has been successful.
"In the meantime, our work to monitor the impact of the spill on our marine wildlife continues.
"Initial sensory tests carried out on fish samples obtained by Marine Scotland's Scotia vessel have proved clear and further scientific analysis is now being carried out.
"Initial results of the bird survey have also given no cause for concern although further monitoring is being carried out."
The Gannet Alpha oil platform is 113 miles (180km) off Aberdeen.
Bertie Armstrong, chief executive of the Scottish Fishermen's Federation, said his organisation was relieved Shell had "appeared to have managed" to control leak and that the impact on the marine environment had been minimal.
Environmental group, WWF, also welcomed the stopping of the leak.
Its Scotland director, Dr Richard Dixon, said: "It is great to hear that the leak from the Shell platform has finally been halted. We hope that the next phase of the operation, to remove the oil remaining in the pipeline, is just as successful."
He added that it was vital that an inquiry was held to look into how Shell carries out its drilling operations.