'Calamities' led to fire Fraserburgh boat deaths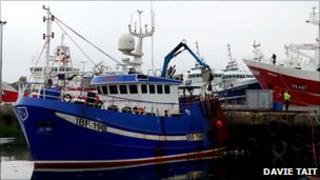 A string of "calamitous" modifications contributed to the deaths of three men in fire on a fishing boat in Fraserburgh, a sheriff has ruled.
Filipinos Ramilito Calipayan and Benjamin Potot, both 33, and 50-year-old Latvian Rimants Venckus died at Fraserburgh harbour.
A fire swept through the Banff-registered trawler Vision II in 2008.
Sheriff Marysia Lewis, in her fatal accident inquiry ruling, said agencies were confused over safety inspections.
Fire alarms had been switched off and a fire door left open on the Vision II when a heater caught fire three years ago.
The fire started when air vents on an electric heater became blocked.
The FAI found the fire could have been avoided if the heater had been housed in a plywood box to prevent obstructions to the air flow.
It also found regular inspections and maintenance had not been carried out on emergency exits meaning an escape hatch becoming seized up had not been spotted.
It had also became routine practice to switch off power to the fire alarm when boats were tied up.
Sheriff Lewis said that two agencies - the Maritime and Coastguard Agency and the Sea Fish Industry Authority - had become confused about who was responsible for inspecting heaters and other safety factors and so none had been carried out.
'Clear actions'
The MCA and SFIA said in a joint statement that "clear actions" had been taken since 2008 to address the safety issues raised by the incident.
The fishing industry said it has been working hard to improve safety since the tragedy, and has implemented a raft of recommendations following a Marine Accident Investigation Branch report in 2009.
A spokesman for the Scottish Fishermen's Federation said the industry had also introduced a code of conduct for the employment of non-EU crews, and had improved its use of risk assessments.
The industry will study the latest inquiry findings to learn any further lessons.
Vision II skipper Zander Jack said only that he felt he had not done anything wrong and that it was a tragic accident.
Speaking by satellite phone from Vision II, he told BBC Scotland: "We bought the boat in good faith and did everything we could with it."