'No more oil' from Shell's North Sea leak pipeline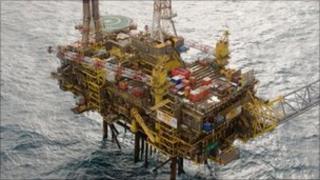 Oil has stopped leaking from a damaged valve at a North Sea pipeline after divers carried out an emergency repair, according to Shell.
The relief valve was closed on Friday after release of more than 200 tonnes of oil near the Gannet Alpha platform.
Shell said small sheens had appeared "from time to time" but "quickly dissipated".
The company said it would take several weeks to evaluate options for clearing the pipe.
It contains a mixture of gas, oil and water.
Shell said on Monday that safety was its "foremost priority" after calls for North Sea activities to be restricted in the wake of the oil leak.
The leak - about 300ft (91m) below the surface - was discovered earlier this month.
The Gannet Alpha oil platform is 113 miles (180km) off Aberdeen.